YES RELAYER
1974
01. The Gates Of Delirium (21:55)
02. Sound Chaser (9:25)
03. To Be Over (9:08)

Total playing time: 40:27

Bonus tracks (Rhino):

04. Soon (single edit)
05. Sound Chaser (single edit)
06. The Gates Of Delirium (studio run-through)

Jon Anderson: Vocals
Chris Squire: Bass & Vocals
Patrick Moraz: Keyboards
Alan White: Drums
Steve Howe: Guitars & Vocals

Patrick Moraz appears courtesy of Charisma Records Ltd.
Original group photograph by Jean Ristori
Plates made by Mansell Litho
Original album paste up by Mike Allison

All music was written & arranged by Yes
Produced by Yes & Eddie Offord, tapes by Genaro Rippo
Recorded on Eddie Offord's mobile equipment in England in late summer & autumn 1974
Mixed at Advision
Co-ordinated by Brian Lane

Published by Topographic Music, BMI
Design, art & logos © 1974 by Roger Dean
CD redesigned by Roger dean & Gottlieb Bros./Yes Magazine, 12 Chelsea Pl., Dix Hills, NY 11746

Originally released as Atlantic # 19135 on 5/12/74
Digitally remastered by George Marino at Sterling Sound

(P) © 1974 Atlantic Recording Corp.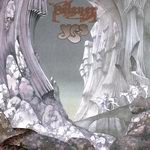 Lyrics