JON AND VANGELIS PAGE OF LIFE
1991
01. Wisdom Chain (5:21)
02. Page Of Life (3:16)
03. Money (6:07)
04. Jazzy Box (3:14)
05. Garden Of Senses (6:23)
06. Is It Love (4:27)
07. Anyone Can Light A Candle (3:46)
08. Be A Good Friend Of Mine (4:14)
09. Shine For Me (4:10)
10. Genevieve (3:48)
11. Journey To Ixtlan (5:50)
12. Little Guitar (1:45)

Total playing time: 52:30

note: some versions include track 'Change We Must', have different running order & omit some songs

Jon Anderson: vocals
Vangelis: all instruments
with:
Brad Ellis: Keyboards
Derek Wilson: Percussion
Rory Kaplin: Keyboards
Jim Hahn: Guitar
Sean Murray: Keyboards
Eduardo del Signore: Bass

Produced by Vangelis, Jon Anderson, David Tickle
Executive producers: Matt Marshall & Dan Selene
Arranged by Vangelis
Engineered by Rick Norman, Matt Gruber, Nicos Despotidis, Jess Sutcliffe, Franco Finetti, Fabio Patrignani
Assistant engineer: Roberto Rosu
Mastered by Alain Marnat, Mireille Landmann
Digital reassembling: William Aura
Production co-ordinatior & personal assistant: John Martin
Art direction, design & photo Imaging: Red Tiger!

Lyrics by Jon Anderson, music by Vangelis except 6 by Anderson
Produced by Vangelis except 6 produced by Jon Anderson

(P) © 1991 Arista Records Inc.



A Bertelsmann Music Group Company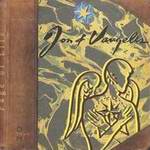 Lyrics