RICK WAKEMAN THE MYTHS AND LEGENDS OF KING ARTHUR
AND THE KNIGHTS OF THE ROUND TABLE
1975
01. Arthur (7:24)
02. Lady Of The Lake (0:44)
03. Guinevere (6:30)
04. Sir Lancelot And The Black Knight (5:18)
05. Merlin The Magician (7:49)
06. Sir Galahad (6:54)
07. The Last Battle (8:19)

Total playing time: 44:39

Rick Wakeman: Keyboards
Ashley Holt: Vocals
Gary Pickford Hopkins: Vocals
Roger Newell: Bass Guitar
Barney James: Drums
John Hodson: Percussion
English Chamber Choir
'Nottingham Festival' Vocal Group

Orchestral arrangements by Wil Malone
Orchestra & choir conducted by David Measham
Orchestral co-ordination by David Katz
The English Chamber Choir, choirmaster: Guy Protheroe
Narration: Terry Taplin

Written & produced by Rick Wakeman
Recorded at Morgan Studios, London, 16/11/74 - 10/01/75
Engineer: Paul Tregurtha
Assistant engineer: Jeremy Stenham

The English Chamber Choir was founded by David Measham, Guy Protheroe became Chorus Master in 1973. The choir has given many performances of all kinds of music, both classical & pop, in London concert halls & around the country. It also took part in the performance & recording of 'Tommy' & 'Journey to the Centre of the Earth'.

Crew:
Fred Randall: tour manager
John Clearly: production manager
Tony Merrell: Electronics technician
Toby Errington, Ian Jeffrey: road managers

Nourishment by Simon, Jackie & Joan
Special thanks to Silverine Case Co., Cajam Electrics, Farmyard Rehearsal Barn, Fragile Carriage Co., 'Factory Studios'.

Art direction: Fabio Nicoli, Paul May
Design: Paul May
Photography: Bob Elsdale
Illustrations: Bob Fowke, Dave Bowyer
Engravings from the Mansell Collection

(P) © 1975 A&M Records Inc.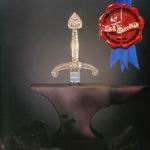 Lyrics