RICK WAKEMAN JOURNEY TO THE CENTRE OF THE EARTH
1974
01. The Journey/ Recollection (21:10)
02. The Battle/ The Forest (18:57)

Total playing time: 40:07

Recorded in concert at The Royal Festival Hall, London on Friday 18/01/74 with
The London Symphony Orchestra & The English Chamber Choir conducted by David Measham
Production narrated by David Hemmings

Rick Wakeman: Keyboards
Gary Pickford-Hopkins: Vocals (courtesy of Chrysalis Records)
Ashley Holt: Vocals
Mike Egan: Guitar
Roger Newell: Bass
Barney James: Drums

All selections written by Rick Wakeman
'Road Things' - John Cleary, Fred & Toby
Produced by Rick Wakeman
Arranged for Orchestra/Choir by Will Malone & Danny Beckerman
Recording engineered by Paul Tregurtha & Pete Flanagan
Production engineered by Keith Grant
Recorded by Ronnie Lane's 'Lyn Mobile Studio'
Mixed at Morgan Studios, London on 21-29/01/74
Production co-ordination: Lou Reizner

Art direction: Michael Doud
Design: Michael Wade (Bloomsbury Group)
Photographers: Chris Foster, Paul Wakefield, Peter Waldman, Nigel Messett (Bloomsbury Group), Ken Randall

Retouching: Mike Mann

(P) © 1974 A&M Records Inc.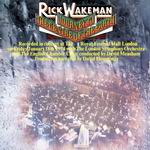 Lyrics