YES FRAGILE
1972
01. Roundabout (8:29) (Anderson/Howe)
02. Cans And Brahms (extracts from Brahms' 4th Symphony in E minor
3d Movement) (1:35) (Arranged by Wakeman)
03. We Have Heaven (1:30) (Anderson)
04. South Side Of The Sky (8:04) (Anderson/Squire)
05. Five Per Cent For Nothing (0:35) (Bruford)
06. Long Distance Runaround (3:33) (Anderson)
07. The Fish (Schindleria Praematurus) (2:35) (Squire)
08. Mood For A Day (2:57) (Howe)
09. Heart Of The Sunrise (10:34) (Anderson/Squire/Bruford)

Total playing time: 41:12

Bonus tracks (Rhino):

10. America
11. Roundabout (early rough mix)

Jon Anderson: Vocals
Bill Bruford: Drums, Percussion
Steve Howe: Electric & Acoustic Guitars, Vocals
Chris Squire: Bass Guitars, Vocals
Rick Wakeman: Organ, Grand Piano (Electric Piano & Harpsichord) Mellotron, Synthesizer

All titles, except 'Cans & Brahms' published by Cotillion, BMI. 'Cans & Brahms' is traditional
Arrangement published by Irving, BMI.

Produced by Yes & Eddy Offord
Engineered by Eddy Offord, assisted by Gary Martin
Original sleeve drawings, photography & logos © 1972 by Roger Dean
CD redesign by Roger Dean & Gottlieb Bros./Yes Magazine.
Bank loan arranged by Brian Lane
Recorded at Advision Studios, London Sept. 1971
Rick Wakeman appears courtesy of A&M Records Ltd.

Originally released as Atlantic 19132 on January 4, 1972
Digitally remastered by Joe Gastwirt at Ocean View Digital.

(P) © 1972 Atlantic Recording Corp.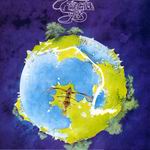 Notes & Lyrics