ANDERSON BRUFORD WAKEMAN HOWE
1989
01. Themes: (5:58)
i. Sound/ ii. Second Attention/ iii. Soul Warrior
02. Fist Of Fire (3:27)
03. Brother Of Mine: (10:18)
i. The Big Dream/ ii. Nothing Can Come Between Us/
iii. Long Lost Brother Of Mine
04. Birthright (6:02)
05. The Meeting (4:21)
06. Quartet: (9:22)
i. I Wanna Learn/ ii. She Gives Me Love/
iii. Who Was The First/ iv. I'm Alive
07. Teakbois (7:39)
08. Order Of The Universe: (9:02)
i. Order Theme/ ii. Rock Gives Courage
iii. It's So Hard To Grow/ iv. The Universe
09. Let's Pretend (2:56)

Total playing time: 59:19

Jon Anderson: Lead Vocals
Bill Bruford: Acoustic & Electronic Drums
Rick Wakeman: Keyboards
Steve Howe: Guitar

with:
Tony Levin: Bass, Stick Bass & Vocals
Matt Clifford: Keyboards, Programming, Orchestration & Vocals
Milton McDonald: Rhythm Guitar

All songs, music & lyrics by Jon Anderson, Steve Howe, Rick Wakeman, Bill Bruford except:
'Long Lost Brother Of Mine': with Geoff Downes
'Birthright': with Max Bacon
'She Gives Me Love': with Ben Dowling
'Rock Gives Courage': with Rhett Lawrence
'Let's Pretend': with Vangelis

Produced by Chris Kimsey & Jon Anderson
Mixed by Steve Thompson & Michael Barbiero
Engineered by Chris Kimsey & Chris Potter
Mastered by Bob Ludwig at Masterdisk

Recorded at Air Studio, Montserrat, West Indies, assistant engineer: Steve Richard;
Air Studios London, assistant engineer: Rupert Coulson
Mixed at Bearsville Studios, assistant engineer: George Cowen
Pre-production recording at: Studio de La Frette, Paris
Engineer: Giles Sampic
Percussion programming: Texas Joe Hammer
Notre Ami: Olivier Bloch-Laine
Les Chanteuses: In Seine Singers

Backing vocals:
The Oxford Circus Singers: Deborah Anderson, Tessa Niles, Carol Kenyon, Frank Dunnery
J.M.C. Singers: Jon, Matt, Chris
Emerald Community Singers, Montserrat

Bill Bruford plays Simmons SDX Electronic drums, Tama acoustic drums & Paiste metals
Rick Wakeman thanks Roland & Korg keyboards
Mastering keyboards courtesy Korg, Mike Kovins
Pre-production keyboards courtesy Korg & Gaffarel Music, Paris
Jon Anderson thanks I.V.L. Technologies, E.M.S. Vocoders & Float Headphones
Steve Howe would like to thank Gibson & Martin Guitars
Group tech: Chris Ranson

Artwork, painting & design: Roger Dean © 1989
Stage design consultant: Martyn Dean

Management: Sunarts Music Ltd.- Brian Lane, Pete Smith
A & R Coordinator: Roy Lott

Love to all our families and friends
For starting the idea: Jennifer Elizabeth Anderson

Bill Bruford appears couretsy of E.G. Records
Frank dunnery appears couretsy of Virgin Records

(P) © 1989 Arista Records Inc.



A Bertelsmann Music Group Company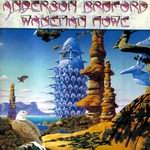 Lyrics