JON ANDERSON 3 SHIPS
1985
01. Save All Your Love (1:22) (Anderson)
02. Easier Said Than Done (4:14) (Jon Vangelis)
03. Three Ships (3:42) (Traditional)
04. Forest Of Fire (3:31) (Anderson)
05. Ding Dong Merrily On High (1:58)
06. Save All Your Love (reprise) (3:10) (Anderson)
07. The Holly And The Ivy (3:07) (Traditional)
08. Day Of Days(3:35) (Anderson)
09. 2,000 Years (0:56) (Anderson)
10. Where Were You? (3:54) (Anderson)
11. Oh Holy Night (4:14) (Traditional)
12. How It Hits You (5:11) (Anderson)
13. Jingle Bells (0:30) (Traditional)

Total playing time: 39:30

Orchestra: 'Beyond War Philharmonic', concert master: Paul Chang
Conducted by Bob Esty who also directed the musical production of the album
Gospel choir: Calvary Baptist Church Of Santa Monica Inspirational Choir, courtesy of Pastor Robert de France Jr.
Choir director: William Bryant II, courtesy of Minrof Lane Prods.
'Sandra Crouch' & Friends: directed by the Wonderfull
'Andre & Sandra Crouch' & Gary Lanier courtesy of Warner Bros. Records, Light Records & Grouch Music
Children's Choir: 'Reach for the Stars Singers', director: Martha Woodhull
Rhett 'Pepsi' Lawrence: Fairlight CMI, Keyboards, Programming

with:
Trevor Rabin: Guitar
Fab People - Ron & Paul
Elliot Easton: Acoustic & Electric Guitars
Frankie Banami: Drums
R. J. Parnell: Drums
Paul [Pleish - ?]: Emulator II
Paulinho Da Costa: Percussion
Novi: Electric Viola
Sandra Crouch: Vocal duet on 'Oh Holy Night'

Musical arrangements by Bob Esty

Produced by Roy Thomas Baker for RTB Productions, USA
Dedicated to 'Beyond War'
Engineered & mixed by George Tutko of the 'Good Ears'
Assistant engineer: Jim McMahon
Additional mixing by Brad Gilderman
Recorded at Crystal Studios, Hollywood
Production co-ordinator: Bob Kearsler,
assisted by Freddie Henderson & Jem Scott

Art direction & design: Kosh & Larson
Photography: Bob Blakeman

Dedicated to Jennifer Elizabeth, for love; Deborah Leigh, for spirit; Damion James, for life; Sweet Jade Genavieve, for 'Jingle Bells. Love to Anne & James. Thanks Serge P.

(P) © 1985 Elektra/Asylum Records
for the US & WEA Int'l for the world outside of the US
75 Rockefeller Plaza, NYC 10019/ 9229 Sunset Blvd, LA, CA 90069
A div. of Warner Commuications Inc.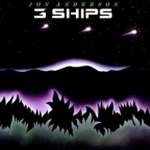 Lyrics