VAN DER GRAAF GENERATOR WORLD RECORD
1976
01. When She Comes (7:59)
02. A Place to Survive (10:02)
03. Masks (6:56)
04. Meurglys III (The Songwriter's Guild) (20:48)
05. Wondering (6:34)

Total playing time: 52:31

Written by Hammill except 'Wondering' by Hammill/Banton

All lyrics by Peter Hammill

Peter Hammill: Vox, Meurglys III & Wassistderpunktenbacker
Hugh Banton: Manuals & Pedals (Manuel & his Music Of The Pedallos)
Guy Evans: Drums, Cymbals, Percussion & fingerpop
David Jackson: Alto, Tenor & Soprano Saxophones & Accoutrements, & Flute (all in The Grotto)

Produced by Van der Graaf Generator
Engineered by Pat Moran
Recorded & mixed at Rockfield Studios 1 & 2, 10-30/05/76 & rehearsed at Headley Grange through April 1976

The Cut: by Arun at CBS
Cuisine: (Rehearsal) Maggie & Mike (Recording) Joan & Sue.
Crew: Mike & Buonuomo Maintenance & comb: Otto
Accredited observers: Mrs Parp & the Parplet, Carlberg Specials, Martin, JA & Debbie, Charlie, Geoff,Gail, Nigel, Colin, Stuart & Keith, Rose, Dave E. & some CBs
Production overview: Buzz Carlberg Jr., Rich (What's the Point?), Zabriskie, Ard Parp & Bunty.
The Controller was played by Splat Meringue,
The Mentor by Geept, & Trevor by the Repertory Company.
Aura: Dormitory Phase, peaking, psychotic reaction (give it ten),
The thing from behind the Wall, echoed lawnmower, The Ice Cream Man, Charisma Day, the upcoming EMT, Domestics, The Big Push & absence.
Sleeve designed by A.D.Design
Art direction by Frank Sansom
Gordianisation by Troeller for Static Enterprises

(P) © 1976 Charisma Records Ltd.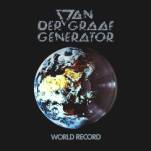 Lyrics