VAN DER GRAAF live VITAL
1978
Disc 1

01. Ship Of Fools (6:44)
02. Still Life (9:44)
03. Last Frame (9:04)
04. Mirror Images (5:50)
05. Medley: (13:42)
a) Plague Of Lighthouse Keepers / b) The Sleepwalkers

Total playing time: 45:04

Disc 2

06. Pioneers Over 'C' (17:08)
07. Sci-Finance (6:12)*
08. Door (5:30)
09. Urban Part 1/ Killer (Section)/ Urban Part 2 (8:18)
10. Nadir's Big Chance (3:53)*

Total playing time: 41:06

*note: the single CD version omits these tracks & runs 75 min 05 sec

All tracks by Hammill except Pioneers Over 'C' by Hammill/Jackson & Killer (Section) by Smith

All lyrics by Peter Hammill

Peter Hammill: Vocals, Guitar, Piano
Graham Smith: Violin
Charles Dickie: Cello, Electric Piano, Synthesiser
Nic Potter: Bass
Guy Evans: Drums
David Jackson: Saxes & Flute

Recorded live at The Marquee Club, London, January 16th 1978

Produced by Guy Evans
Existential Producer: Peter Hammill
Engineered by Mike Dunne
Mixed at Foel Studio (Llanfair Caereinion)
Front photo by Gordian Troeller, Centre
Photos by Guy Evans, Peter Hammill & Ria Granneman
Layout by John Pasche
Stage lighting, model & back photo by Rod Illingworth
Sound by H.H.B. Martin Westwood, Noel Mawer & Graham Hayes
16 Track by Brian
Gordianisation by Troeller
No overdubs have been employed in this recording

All tracks published by Static except 'Pioneers Over 'C'' & 'Killer' published by Carlin/Stratsong

(P) © 1978 Charisma Records Ltd.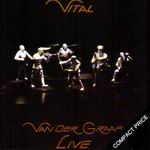 Lyrics