VAN DER GRAAF GENERATOR
THE LEAST WE CAN DO IS WAVE TO EACH OTHER
1970
01. Darkness (11/11) (7:27)
02. Refugees (6:22)
03. White Hammer (8:15)
04. Whatever Would Robert Have Said? (6:07)
05. Out Of My Book (4:07)
06. After The Flood (11:28)

Total playing time: 43:48

All tracks by Hammill except ' Out Of My Book' by Hammill/Jackson

Peter Hammill: Acoustic Guitar, Lead Vocals, Piano on 'Refugees'
Hugh Banton: Organ, Piano, Backing Vocals
Nic Potter: Bass Guitar, Electric Guitar
Guy Evans: Drums, Percussion
David Jackson: Tenor & Alto Sax, Flute, Backing Vocals

with:
Mike Hurwitz: 'Cellos on 'Refugees'
The Cello parts were written by Hugh
Gerry Salisbury: Cornet on 'White Hammer'

The quote in 'After the Flood' was from Albert Einstein
Reading matter: Asimov/Donleavy

Produced by John Anthony (of Tynemouth & Playgrounds)
Engineered by Robin Cable
Tape jockeying: Dave & Alan

Recorded at Trident Studios, London, 11-14/12/69
All titles done on 8-track, except 'After the Flood', on 16

Photography: Ge Grimmel
Design by Van der Graaf Generator

Dedicated to L. & M., without whom everyone would have been much happier...

(P) © 1970 Charisma Records Ltd.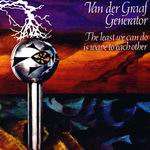 Lyrics