PETER HAMMILL FOOL'S MATE
1971
01. Imperial Zeppelin (3:39)
02. Candle (4:17)
03. Happy (2:36)
04. Solitude (4:59)
05. Vision (3:15)
06. Re-Awakening (3:58)
07. Sunshine (4:00)
08. Child (4:26)
09. Summer Song (In The Autumn) (2:13)
10. Viking (4:43)
11. The Birds (3:36)
12. I Once Wrote Some Poems (2:46)

Total playing time: 44:28

Bonus tracks (early demos):

13. Re-Awakening
14. Summer Song In The Autumn
15. The Birds
16. Sunshine
17. Happy

All tracks by Hammill except 1 & 10 by Hamiill/C.J.Smith

Peter Hammill: Vocals, Acoustic Guitars, Acoustic Piano
Guy Evans: Drums, Percussion, Background Vocals
Martin Pottinger: Violin
Hugh Banton: Organ, Piano, Keyboards, Background Vocals
Rod Clements: Bass, Violin
Nic Potter: Bass
Ray Jackson: Harp, Mandolin, Harmonica, Background Vocals
David Jackson: Alto & Tenor Saxophones, Flute
Paul Whithead: Drums
Robert Fripp: Electric Guitar

Produced by John Anthony
Engineered by Robin Cable
Recorded at Trident Studios, London 20-28/04/71
Cover by Paul Whitehead
Photo by Sebastian Rich

'This isn't intended to be any kind of statement of my present musical position, but at the same time it is an album which involves a great deal of me, the person, being basically a return to roots. The songs are, for the most part, three to four years old, & were written in the formative years of Van der Graaf, some of them were originally played by the band in its early days & forms. This is, therefore, an album of songs rather than musical extravaganzae, & as such is dedicated to all the people who encouragised/energised them at the time they were written, who have shed new light on them since, & all those who helped in the making of the album, directly or indirectly.' (PH)

(P) © 1971 Charisma Records Ltd.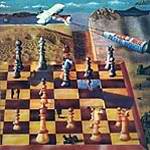 Lyrics