VAN DER GRAAF GENERATOR
FIRST GENERATION (SCENES FROM 1969-1971)
1986
01. Darkness (11/11) (7:25)
02. Killer (8:07)
03. Man Erg (9:00)
04. Theme One (4:00) (George Martin) (previously not available on LP/CD)
05. Pioneers Over 'C' (12:43)
06. A Plague Of Lighthouse Keepers (22:00)
07. Refugees (6:20)

Total playing time: 71:09

Peter Hammill
Hugh Banton
Guy Evans
David Jackson
with
Nick Potter

Produced by John Anthony

All tracks published by Stratsong Ltd/Carlin Music Corp. except 4 by Maribus Music Ltd.

All lyrics by Peter Hammill

Note: all tracks were previously released on albums except 4

VdGG created a number of reputations to live up to - & down - in the course of their passage(s) across the planet as an ensemble. Loosely tagged with the 'progressive' label, it was one which fitted them somewhat uncomfortably. At a time when electric guitar was commonly seen as an essential part of any line-up, VdG had none, their front-line assault consisting of organ (heavily modified) & Jackson's saxophones - sometimes doubled-up, & for the most part electric. After the departure of Nic Porter, mid-way through the making of 'H to He,' the instrumentation became even more bizarre in both look & content, as Hugh Banton supplied bass on organ pedals. Live performances were often an electric maelstrom, punctuated by Hammill's extreme singing & Evans' sturdy drumming; but beneath the sonic attack could be treated lines from jazz, classical, electronic, blues & soul influences. No satisfactory answer to the question 'What kind of music do you play?' could ever be found; then, as now, that music had to speak for itself.
In the studio the aim was never to reproduce the live sound of the band exactly. In the days when state-of-the-art recording was 16-track, the group went for the creation of aural landscapes with overdubbing & effects: their use of jagged & surprising time signatures & constructions ideally suited the employment of such techniques. Nonetheless, some effort was always made to capture something of the live power of the group. Of the songs represented here 'Darkness', 'Killer' & 'Man-Erg' were long-time staples of VdG concerts at various times, while 'Pioneers' & the epic 'Lighthouse-Keepers' show the group at their most developed as a recording entity.
In 1972, after the recording of 'Pawn Hearts' & an almost endless round of touring in Britain & Europe, the first era of VdG history came to an end, the group breaking up at the very moment they seemed poised for wider success. Ultimately, though, this was not the end of the story...

(P) © 1986 Virgin Records Ltd.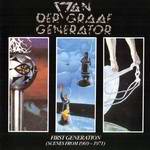 Lyrics