VAN DER GRAAF GENERATOR 68-71
1972
01. Afterwards (4:56)
02. The Boat Of Millions Of Years (3:49)
03. Whatever Would Robert Have Said? (6:03)
04. Lost (10:27)
05. Necromancer (3:36)
06. Refugees (6:18) (single version)
07. Darkness (7:24)
08. Killer (8:16)

All tracks by Hammill except 'Killer' by Hammill/Banton/Smith

Note: all tracks were previously on albums except 'The Boat Of Millions Of Years' which is the B-side of the 'Refugees' single

The album was completed by: Peter Hammill, Hugh Banton, Guy Evans, David Jackson

Produced by John Anthony
Sleeve design: Paul Whitehead
Photography: Gordian Troeller

(P) © 1972 Charisma Records Ltd.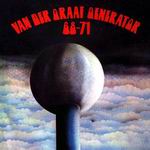 Lyrics