THE FIXX PHANTOMS
1984
01. Lose Face (3:03)
02. Less Cities, More Moving People (3:53)
03. Sunshine in the Shade (2:26)
04. Woman On A Train (3:56)
05. Wish (4:08)
06. Lost In Battle Overseas (4:10)
07. Question (3:26)
08. In Suspense (3:45)
09. Facing The Wind (3:20)
10. Are We Ourselves? (2:27)
11. I Will (3:54)
12. Phantom Living (3:50)

Total playing time: 42:44

All songs by Curnin/West-Oram/Woods/Greenall/Brown except 4 by Curnin/West-Oram/Woods/Greenall/Brown/Obstoj
All lyrics by Cy Curnin except 4 by Jeannette Obstoj

Cy Curnin: Vocals
Jamie West-Oram: Guitar
Adam Woods: Drums
Rupert Greenall: Keyboards
Dan K. Brown: Bass

Produced by Rupert Hine for GESTALT
Recorded & mixed by Stephen W. Tayler
Assisted by Andrew Scarth
Recorded & mixed at Farmyard Studios, Little Chalfont, Buckinghamshire, England

Cover art: George Underwood/Folio
Mechanical A/work: Cream
Sleeve photos: Chris Parker
Snapshots: the band

Fixx Crew: Bombardier Bob Ward, John Alexander, Malcolm Corbett, Ian Faddie, Norman Whapshot, Ron Labranche, Big Ernie, Aaron Golstein

(P) © 1984 MCA Records, Inc.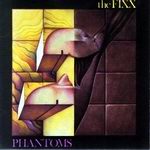 Lyrics