KANSAS POWER
1986
01. Silhouettes In Disguise (4:26) (Morse/Walsh)
02. Power (4:25) (Morse/Walsh/R.Goodrum)
03. All I Wanted (3:20) (Walsh/Morse)
04. Secret Service (4:42) (Morse/Walsh/R.Miller/J.Aclin)
05. We're Not Alone Anymore (4:16) (Morse/Walsh)
06. Musicatto (3:30) (Morse/Walsh)
07. Taking In The View (3:06) (Morse/Walsh)
08. Three Pretenders (3:50) (Greer/Morse/Walsh)
09. Tomb 19 (3:46) (Morse/Walsh)
10. Can't Cry Anymore (4:01) (T.Smith/V.Temple/Morse)

Phil Ehart: Drums
Billy Greer: Bass & Vocals
Steve Morse: Guitar
Steve Walsh: Vocals & Keyboards
Richard Williams: Guitar

Additional background vocals provided by:
"The Nude From Waist Down Singers":
Travis Bradford, Rob Henson, Merle McLain, Jerome Olds, Yonrico Scott
& "The Boys Trio":
Doug Baker, Cliff Jones, Solomon Olds

Keyboard programming by Gary Chang

Produced by Andrew Powell
Executive producer: Phil Ehart
Management: Budd Carr, The Carr Company

Recorded by Nigel Walker
Mixed by Nigel Walker except 'All I Wanted' mixed by Humberto Gatica
Assisted by Keith Odle, Lance Phillips
Additional engineering by David Moire, Ron Christopher, Will Shepland, Ray Pile
Pre-production studios: Crawaford Communications/Rick Keller Studios/M.O.R. Studios

Recorded at the Castle, Franklin, Tennessee

Additional recording by The Philharmonic Orchestra at Abbey Road Studios, London
Mixed at Jacab's Studio, Farnham, Surrey, England & Lionshare Studios, LA

Mastered by George Marino at Sterling Studio, NY

Art direction: Vartan
Photography: Jim Shea
Design & illustration: Andy Engel

Digitally recorded & mastered to insure highest audio fidelity, therefore, play this record loud

(P) © 1986 MCA Records, Inc.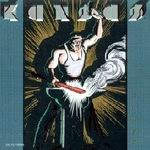 Lyrics