URIAH HEEP RETURN TO FANTASY
1975
01. Return To Fantasy (5:50) (Hensley/Byron)
02. Shady Lady (4:47) (Hensley/Box/Byron/Kerslake)
03. Devil's Daughter (4:49) (Byron/Box/Hensley/Kerslake)
04. Beautiful Dream (4:53) (Hensley/Byron/Box/Kerslake)
05. Prima Donna (3:09) (Byron/Box/Kerslake/Hensley)
06. Your Turn To Remember (4:22) (Hensley)
07. Showdown (4:19) (Hensley/Byron/Box/Kerslake)
08. Why Did You Go (3:52) (Box/Byron/Hensley/Kerslake)
09. A Year Or A Day (4:28) (Hensley)

Total playing time: 40:37

Bonus tracks:

10. Shout It Out (3:35) (Hensley) (B-side to 'Prima Donna')
11. The Time Will Come (4:10) (Box/Byron/Hensley/Kerslake)
(B-side to 'Return To Fantasy')
12. Beautiful Dream (5:49) (demo version)
13. Return To Fantasy (3:38) (edited single version)

David Byron: Lead Vocals
Mick Box: Guitars
Ken Hensley: Keyboards, Guitars, Synthesizer, Vocals
Lee Kerslake: Drums, Percussion, Vocals
John Wetton: Bass, Mellotron, Vocals

with:
Mel Collins: Sax
B.J. Cole: Steel Guitar

Produced by Gerry Bron
Engineer: Peter Gallen
Assisted by Dave Burns & Dave Harris
Recorded at Lansdowne & Morgan Studios, London, Spring 1975
Mixed by Ian Herron
Cutting by Harry Moss at EMI Abbey Road
Design: Logo Ltd.
Illustration: Dave Feld
Photos: Joe Gaffney
CD artwork by Creation Graphics, Luton, England
Thanks to our road crew, Chris, Del, Ed, Peter, Rick, Tom & B.J.

Remastered by Mike Brown & Robert M. Corich, Nov. 1995
Edited by Harry Moss
Mixing, remastering & research: Robert M. Corich
Illustrations: Dave Field
Photographs: Joe Gaffney, Mick Box, Ken Hensley

'Return To Fantasy' was UH's 8th studio album. Released in Nov 1975, it was the first of two albums to include bassist John Wetton in the band. John had previously played in Family, King Crimson & Roxy Music. He was later to gain mega star fame & fortune in one of the 80's biggest grossing acts, Asia. With Gary Thain's replacement, JW, in place, UH rapidly commenced work on their next album. Entitled 'Return To Fantasy', the record was released in Nov 1975 & went on to become their biggest selling album to date, reaching No.7 in the charts. Rehearsals & demo recording was commenced in early 1975 even before the ejection of Thain from the band. In fact, several tracks were recorded in Jan-March 1975 (see notes on bonus tracks). Full recording commenced in mid 1975 resulting in an album containing 9 songs. The band themselves now look at it with mixed feelings, but the public at the time loved it. Sales for the album were so rapid they catapulted it to no.7 in the UK charts. In general, 'Return To Fantasy' was looked upon by the press & public as a vast improvement on the previous vinyl offering. An extensive tour was organized for the promotion of 'Return To Fantasy' with dates scheduled all over the world. NME called the upcoming tour 'Year Long World Tour' as a headline & Gerry Bron, the band's manager, predicted that by the end of the year UH would have played to one million people & traveled 300,000 miles, in the eyes the public Heep were mega stars & still destined to climb higher. The title of the next album 'High & Mighty' could well have summed up the real situation for the band internally. 1975 was indeed a busy & lucrative year for the band, not only was 'Return To Fantasy' climbing the charts but both Ken Hensley & David Byron released solo albums. 1976 was to prove a watershed year for this band that appeared to be going from strength to strength. That part of the story however, will have to wait until the release of the remastered 'High & Mighty' album.
Robert M.Corich, 1996

'This album introduced John Wetton on bass & vocals &, although the chemistry was not the same as with Gary Thain, we still produced a typical 'Heep' album. I think 'Return To Fantasy', the title track, is a classic 'Heep' song. 'Devil's Daughter' made it into our 1994 live set & proved to be a very powerful stage number. This album reached No.7 in the UK charts & we embarked on a year long tour packed with incidents like me falling off the stage on the very first show in the USA (Lousville, Kentucky) breaking the radial bone in my right hand which needed two casts a day. We didn't miss any dates, although I was in a lot of pain & the cast was eventually taken off at the end of the tour in Jamaica where I went for a rest with Lee. We played to over one million people & travelled over 300,000 air miles this was once again a very exciting time. The re-mastered CD of this album is great & I hope you enjoy the bonus tracks too.
Mick Box, London 12/11/95

'I must admit, I don't listen to this record any more. It's actually not a bad record, there are a couple good tunes & solid performances throughout, but we rushed into it & it doesn't have any cohesiveness to it. Nor does it contain a hit single! In those days, we were really strugglng internally, & we needed to slow down & re-group a bit. We never did, of course, & a lot of tragedy followed. But so did a couple of really good albums, at least in my humble opinion. Definitely not Heep at its best.'
Ken Hensley, St.Louis, USA 27/12/96



(P) © 1975 Bronze Records Ltd.




Re-released by Castle Communications Plc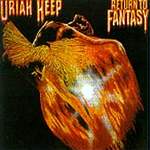 Lyrics