URIAH HEEP THE MAGICIAN'S BIRTHDAY
1972
01. Sunrise (4:04) (Hensley)
02. Spider Woman (2:25) (Box/Byron/Kerslake/Thain)
03. Blind Eye (3:33) (Hensley)
04. Echoes In The Dark (4:48) (Hensley)
05. Rain (3:59) (Hensley)
06. Sweet Lorraine (4:13) (Box/Byron/Thain)
07. Tales (4:09) (Hensley)
08. The Magician's Birthday (10:23) (Hensley/Box/Kerslake)

Total playing time: 37:37

Bonus tracks:

09. Silver White Man (3:43) (instrumental) (Byron) (album outtake)
10. Crystal Ball (Gary's Song) (4:08) (Thain) (album outtake)

Ken Hensley: Keyboards, Guitars, Moog, Synthesizer
David Byron: Vocals
Mick Box: Guitar
Gary Thain: Bass Guitar
Lee Kerslake: Drums & Percussion, Kazoo

with:
Brian J Cole: Pedal Steel Guitar on 'Tales'

Produced by Gerry Bron for Hit Records Productions
Engineer: by Peter Gallen
Assistant: Ashley Howe
Recorded at Lansdowne Studios, London, Sept-Oct 1972
Cover design by Roger Dean

'Based loosely on a short story which I wrote during June/July this year 'The Magician's Birthday' brings us to our fifth album. Again we find ourselves saying this is our most important album, but they have all been the most important and we will probably say that about the next one and so onů Since album 'Demons & Wizards' we have been touring really hard, and recording this new album has helped us to see how the band has progressed; this being reflected by the new songs and the tightness, togetherness if you like, of the finished product. The Uriah Heep which appeared first on our last album is we feel now in full flight and we are looking forward to the many new adventures that are planned for us. With everyone in the band writing, we have been able to spread out so much more, and if you and 1973 are even half as good to us as you were in 1972, it looks like it could be a very good year'

-Ken Hensley, September 1972 (sleeve notes)

(P) © 1972 Bronze Records Ltd.



Licensed by Castle Copyrights Ltd.
Re-released by Sanctuary Records Group Ltd. ['Castle' label] (P) © 2002
Licensed by Castle Copyrights Ltd. Marketed & distributed in Russia by BMG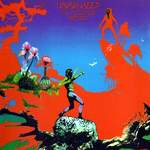 Lyrics