URIAH HEEP HIGH AND MIGHTY
1976
01. One Way Or Another (4:37) (Hensley)
02. Weep In Silence (5:07) (Hensley/Wetton)
03. Misty Eyes (4:15) (Hensley)
04. Midnight (5:42) (Hensley)
05. Can't Keep A Good Band Down (3:47) (Hensley)
06. Woman Of The World (3:07) (Hensley)
07. Footprints In The Snow (3:57) (Hensley/Wetton)
08. Can't Stop Singing (3:25) (Hensley/Wetton)
09. Make A Little Love (3:25) (Hensley)
10. Confession (2:09) (Hensley)

Total playing time: 39:54

Bonus tracks:

11. Name Of The Game (4:59) (Hensley) (album out-take)
12. Sundown (3:20) (Hensley) (album out-take)

David Byron: Vocals
Ken Hensley: Organ, Piano, Moog Synthesizer, Tubular Bells, Electric Piano, Guitar, Slide Guitar, Acoustic Guitar, Electric 12 String Guitar, Pedal Steel Guitar, Vocals
Mick Box: Lead Guitar, Acoustic Guitar, 12 String Acoustic Guitar
John Wetton: Bass, Guitar, Mellotron, Electric Piano, Vocals
Lee Kerslake: Drums, Percussion, Vocals

Produced & arranged by Uriah Heep
Engineer: Ashley Howe except 1 & 7: Peter Gallen
Assistant engineer: John Gallen
Recorded at Roundhouse Studios, London Dec'75-Mar'76
Originally mastered by Alan Corbeth at RCA London
Equipment by Del Roll, Pete Gibbs, Mike Briscoe, George Merriman
All tracks MCPS
Thanks to the Wobblers - Chris & Rick
Design: Shirtsleeve Studios

Re-mastered by Mike Brown & Robert M Corich

(P) © 1976 Bronze Records Ltd.




Re-released by Castle Communications Plc (P) © 1997
Marketed & distributed in Russia by BMG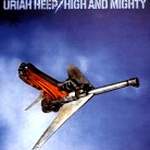 Lyrics