URIAH HEEP FIREFLY
1977
01. The Hanging Tree (3:40) (Hensley/Jack Williams)
02. Been Away Too Long (5:03) (Hensley)
03. Who Needs Me (3:38) (Kerslake)
04. Wise Man (4:40) (Hensley)
05. Do You Know (3:14) (Hensley)
06. Rollin On (6:21) (Hensley)
07. Sympathy (4:48) (Hensley)
08. Firefly (6:17) (Hensley)

Total playing time: 37:58

Bonus tracks:

09. Crime Of Passion (3:37) (B-side) (Hensley/Box/Kerslake)
10. Do You Know (3:16) (alternate demo version)
11. A Far Better Way (5:50)(Bolder/Box/Hensley/Kerslake/Lawton) (album outtake)
12. Wise Man (TV backing track version) (4:48)

Ken Hensley: Keyboards, Guitars, Vocals
Mick Box: Guitars
Jon Lawton: Lead Vocals
Lee 'The Bear' Kerslake: Drums, Vocals
Trevor Bolder: Bass Guitar

Produced by Gerry Bron
Engineer: Peter Gallen
Assisted by John Gallen
Recorded at the Roundhose Studios, London, Oct-Nov 1976
Cover drawing: Martin White

Sleeve notes: Mick Box & Ken Hensley

Remastered by Mike Brown
Project co-ordinators: Lorraine Bromley, Mick Carpenter
Remastering & research: Robert M. Corich
Reissue design: Albert de Gouveia

(P) © 1977 Bronze Records Ltd.




Re-released by Sanctuary Records Group/ Castle
Distributed by BMG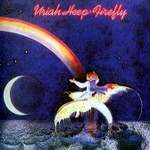 Lyrics