URIAH HEEP FALLEN ANGEL
1978
01. Woman Of The Night (4:05) (Box/Lawton/Kerslake)
02. Falling In Love (2:54) (Hensley)
03. One More Night (Last Farewell) (3:32) (Hensley)
04. Put Your Lovin' On Me (4:06) (Lawton)
05. Come Back To Me (4:17) (Kerslake/Hensley)
06. Whad'ya Say (3:40) (Hensley)
07. Save It (3:31) (Bolder/McDonald)
08. Love Or Nothing (3:01) (Hensley)
09. I'm Alive (4:15) (Lawton)
10. Fallen Angel (4:59) (Hensley)

Total playing time: 38:38

Bonus tracks:

11. Cheater (4:04) (Hensley) (B-side)
12. Gimme Love (Struttin') (3:16) (Bolder/Box/Kerslake/Lawton) (B-side)
13. A Right To Live (3:37) (Lawton) (album outtake)
14. Been Hurt (5:05) (Hensley) (album outtake, b-side with Lawton on vocals)

Ken Hensley: Keyboards, Synthesizer, Slide & Acoustic Guitar, Back-up Vocals
Mick Box: Electric & Acoustic Guitar
Jon Lawton: Lead & Back-up Vocals
Trevor Bolder: Bass Guitar
Lee Kerslake: Drums, Syn-Drums, Back-up Vocals

with:
Chris Mercer of Gonzalez: Tenor Sax solo on 'Save It'

Produced by Gerry Bron & Ken Hensley
All songs arranged by Uriah Heep
Recorded & mixed at Roundhouse Recording Studios, London, during April, July & August 1978
Engineer: Peter Gallen
Assisted by John Gallen, Julian Cooper, Colin Bainbridge
Equipment: Albert Sutton, Alistair Cunningham, Rick 'Slasher' Lawrence
Thanks to: Chris Healey & Jon Anthony
Sleeve design & artwork: Chess Creative Services
Cover illustration: Chris Achilleos
Photography by Fin Costello
Published by: 'Umble Tunes Ltd. (2,3,5,6,8,10); Essex Music Int'l Ltd. (7); Sydney Bron Music Co.Ltd. (1,4,9)

Remastered by Mike Brown
Assisted by Julian Cooper
Coordination, liner notes, remastering & research: Robert M. Corich

(P) © 1978 Bronze Records Ltd.




Re-released by Sanctuary Records Group/ Castle
Distributed by BMG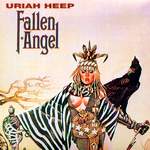 Lyrics