URIAH HEEP DEMONS AND WIZARDS
1972
01. The Wizard (2:56) (Hensely/Mark Clarke)
02. Traveller In Time (3:14) (Byron/Box/Kerslake)
03. Easy Livin' (2:34) (Hensley)
04. Poet's Justice (4:11) (Box/Kerslake/Hensley)
05. Circle Of Hands (6:18) (Hensley)
06. Rainbow Demon (4:19) (Hensley)
07. All My Life (2:42) (Box/Byron/Kerslake)
08. Paradise (5:11) (Hensley)
09. The Spell (7:21) (Hensley)

Total playing time: 39:08

Bonus tracks (Essential 1996, UK):

10. Why (4:53) (Box/Byron/Hensley/Newton) (b-side)
11. Why (7:39) (extended version)
12. Home Again To You (5:20) (Box/Byron/Hensley/Kerslake/Thain) (album outtake)

David Byron: Vocals
Ken Hensley: Keyboards, Guitars, Percussion
Mick Box: Guitar
Gary Thain: Bass Guitar
Lee Kerslake: Drums & Percussion
All other voices by Uriah Heep

with:
Mark Clarke: Vocals on 'The Wizard', Bass on 'Why'

Produced by Gerry Bron
Recorded at Landsdowne Studios, London, March/April 1972
Engineer: Peter Gallen
Assistant engineer: Ashley Howe
Cover designed & drawn by Roger Dean
Photography by Dominy Hamilton/ Roger Dean
All songs published by Sydney Bron Music Co.Ltd

'Somebody left a space between our last American tour and our European trip and we used literally every second to put 'Demons And Wizards' together. Although the titles would suggest it, there is no magic in it - it's just a collection of our songs which we had a good time recording. Gary Thain, formerly of Keef Hartley, and Lee Kerslake have 'completed' Uriah Heep, and we are happy and excited with the kind of re-energisation that's taking place. We all want to say a big 'thank you' to Gerry and to Peter and Ashley who shared our tribulations, and without whose help I would have nothing to write about!! Hope you enjoy the album, because your pleasure is our best reward and it helps us to 'keep on truckin''. Thanks to Mel, Dell, Todd, and Pete for taking care of business'


-Ken Hensley, March 1972 (sleeve notes)

(P) © 1972 Bronze Records Ltd.



Licensed by Castle Copyrights Ltd.
Re-released by Sanctuary Records Group Ltd. ['Castle' label] (P) © 2002
Licensed by Castle Copyrights Ltd. Marketed & distributed in Russia by BMG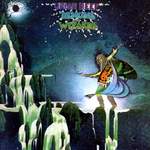 Lyrics