U2 THE UNFORGETTABLE FIRE
1984
01. Sort Of Homecoming (5:24)
02. Pride (In The Name Of Love) (3:46)
03. Wire (4:15)
04. The Unforgettable Fire (4:51)
05. Promenade (2:30)
06. 4th Of July (2:11)
07. Bad (6:05)
08. Indian Summer Sky (4:14)
09. Elvis Presley And America (6:22)
10. MLK (2:27)

Total playing time: 42:10

All tracks by U2, lyrics by Bono

The Edge: Guitar, Keyboards, Vocals
Bono: Vocals
Adam Clayton: Bass
Larry Mullen Jr: Drums

with:
Paul Barrett: Keyboards, Fairlight
Brian Eno: Keyboards, Vocals, Engineer Strings arranged by Noel Kelehan
Daniel Lanois: Vocals

Produced by Brian Eno & Daniel Lanois
Engineered by Brian Eno, Daniel Lanois

Additional engineering: Kevin Killen Recorded at Slane Castle, Co. Meath & Windmill Lane, Dublin, Eire

Cover design: Steve Averill

© 1984 Island Records, Inc.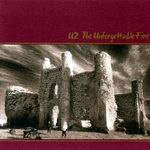 Lyrics