U2 THE JOSHUA TREE
1987
01. Where The Streets Have No Name (5:37)
02. I Still Haven't Found What I'm Looking For (4:38)
03. With Or Without You (4:56)
04. Bullet The Blue Sky (4:32)
05. Running To Stand Still (4:17)
06. Red Hill Mining Town (4:53)
07. In God's Country (2:57)
08. Trip Through Your Wires (3:32)
09. One Tree Hill (5:23)
10. Exit (4:13)
11. Mothers Of The Disappeared (5:11)

Total playing time: 50:13

All tracks by Bono/ClaytonEdge/Mullen

Bono: Vocals, Harmonica
The Edge: Guitar, Backing Vocals
Adam Clayton: Bass
Larry Mullen Jr: Drums, Percussion

with:
Brian Eno: Keyboards, Programming, Background Vocals, DX-7
Daniel Lanois: Rhythm Guitar, Tambourine, Background Vocals, Omnichord
Horns arranged & conducted by Paul Barrett

Produced & engineered: Daniel Lanois & Brian Eno
Recorded by Flood at Windmill Lane Studio, Dublin Ireland
Additional engineering: Dave Meegan with Pat McCarthy, Bob Doidge
Mixed by Steve Lillywhite
Mixing assistants: Mary Kettle & Mark Wallace
Mastered by Arnie Acosta & Cheryl Engels

Artwork & design: Steve Averill
Photo: Anton Corbijn

(P) © 1987 Island Records, Inc.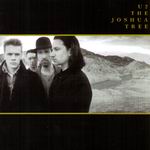 Lyrics