U2 ACHTUNG BABY!
1991
01. Zoo Station (4:36)
02. Even Better Than The Real Thing (3:41)
03. One (4:36)
04. Until The End Of The World (4:38)
05. Who's Gonna Ride Your Wild Horses (5:16)
06. So Cruel (5:49)
07. The Fly (4:29)
08. Mysterious Ways (4:03)
09. Tryin' To Throw Your Arms Around The World (3:52)
10. Ultraviolet (Light My Way) (5:30)
11. Acrobat (4:30)
12. Love Is Blindness (4:23)

Total playing time: 55:27

All songs by U2

The Edge: Guitar, Keyboards, Backing Vocals
Bono: Guitar, Vocals
Adam Clayton: Bass, Guitar
Larry Mullen Jr: Drums, Percussion

with:
Brian Eno: Keyboards
Duchess Nell Catchpole: Violin, Viola
Daniel Lanois: Guitar, Percussion
Strings arranged by The Edge & Brian Eno

Produced by Daniel Lanois with Brian Eno mainly at Hansa Ton Studios, Berlin, Dog Town, S.T.S., & Windmill Lane, Dublin
Engineered & mixed by Flood with 'Who's Gonna...' & 'Even Better...' mixed by Steve Lillywhite

Engineers: Joe O'Herlihy, Brian Adams, Robbie Adams
Assistant engineers & mixing assistants: Paul Barrett, Robbie Adams, Shannon Strong, Sean Leonard
Digital editing: Stewart Whitmore
Mastered by Arnie Costa

Design: Shaughn McGrath & Steve Averill
Illustrations: Charlie Whisker
Photography: Anton Corbijn

© 1991 Island Records, Inc.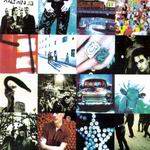 Lyrics